By now I'm certain you are all weary of hearing about presidential race, and I'm not terribly interested in it for reasons I've already stated several times.
It's been fascinating to watch how the liberty movement has responded to the recent batch of would-be messiahs – er, presidential candidates. You'd think that they would be watching from the sidelines, like yours truly, eating popcorn and laughing hysterically as candidates scramble to recite all the carefully tailored statements they're rehearsed in fear of offending Those Whom You May Not Offend.
The most remarkable phenomenon, however, has been the special emotional outrage of certain libertarians and libertarian outlets and those in the liberty movement; an outrage they've directed in particular (though not exclusively) at Donald Trump's candidacy.
To many, he is Satan incarnate and the worst of the lot.
I have no love for Trump (does this even need to be said?) but like one former IRA member said about the violence during The Irish Troubles I don't condone what is happening, but I do understand exactly why it is happening.
It was wholly predictable.
Mind you, my interest is not about Trump, per se, but what his success so far says about where we're at. Unfortunately, it appears many libertarians are misreading the country's political pulse. Organizations like the Cato Institute are correct to point out what's wrong with Trump but where they go wrong is the reasons for why people are backing him. The explanations provided, at least those I've seen, are simplistic and facile.
Jeffrey Tucker's post below summarizes this sentiment.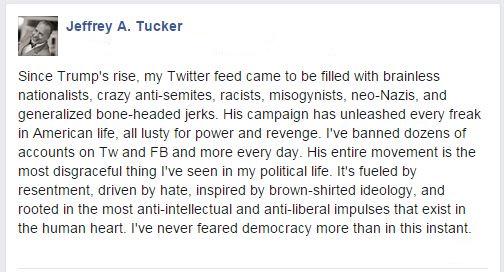 It's not that I'm shocked Tucker doesn't like Trump – no libertarian should support him, albeit they may, like yours truly, find his antics entertaining. What puzzles me is why he or any other libertarian pretends like we haven't seen any of this before; and more importantly why people are backing Trump.
Where were they in 2007 when kids were singing creepy songs about Obama? Where were they when he was proclaimed "The One"? Or when as a candidate Obama proclaimed "fundamentally transforming the United States of America" was part of his plans?
No doubt it's scary to see people literally thanking Christ for Trump, but it's not as if Obama wasn't being referred to as "The Messiah," subject to glowering magazine cover stories.
Again, I don't know why people are surprised, but they shouldn't be any more than seeing the rise of Bernie Sanders' candidacy (for separate reasons). It's evidence of an untapped reserve of dissidents in America who, on a whole host of issues, have had their rights violated.
It is possible (nobody can be certain about this) that one of the underlying causes is what Samuel T. Francis coined "anarcho-tyranny":
What we have in this country today, then, is both anarchy (the failure of the state to enforce the laws) and, at the same time, tyranny – the enforcement of laws by the state for oppressive purposes; the criminalization of the law-abiding and innocent through exorbitant taxation, bureaucratic regulation, the invasion of privacy, and the engineering of social institutions, such as the family and local schools; the imposition of thought control through "sensitivity training" and multiculturalist curricula, "hate crime" laws, gun-control laws that punish or disarm otherwise law-abiding citizens but have no impact on violent criminals who get guns illegally, and a vast labyrinth of other measures. In a word, anarcho-tyranny.
What we are seeing is the rise of a dissident political party, a reactionary movement. As I see it, it's what happens when you force people into a corner. You can call them freaks, racists, bigots, nativists, and angry-bitter misogynists all you like, but name-calling and addressing the root cause of the problem are two different things. We're where we are now because name-calling has been the order of the day for a long time. It's akin to the English and French lambasting the Germans for supporting the Nazis while at the same time insisting the provisions of the Treaty of Versailles were perfectly valid and fair.
When you have 320 million people ruled by a small group of individuals in D.C., inevitably lives get stepped on; when your people aren't getting stepped on, you don't care so much, but when it's your people, this is somewhat relevant to the discussion.
Look at the root of most extremism and you will be surprised to find some legitimate grievances. The grievances of many groups in the country are not without merit (even if their proposed solutions are not), yet they have been ignored, or mocked and ridiculed if acknowledged at all.They've been told that their rights do not matter and that there is no scenario in which their rights will be respected.
This is a lesson that statists need to get into their thick skulls, if for no other reason then for their own damn good. If the only option you give dissidents is either being the oppressed or the oppressor, eventually they will choose the latter. The fear and loathing (pardon the expression) we're seeing about Trump's rise is the realization that Dissident America is finally switching its long-held choice of submission because it's found a man strong enough to make it happen.
Those who are inclined to study history will see the comparison between those who tell us not to take Trump seriously and what contemporaries of Hitler said of him (at first). Trump is mocked for his toupee and bombastic demeanor, while Hitler was ridiculed for his resemblance to Charlie Chaplain and his frenetic speeches. Hindenburg thought Hitler would amount to no more than a Postmaster General. We're told not to take Trump's white paper on immigration seriously, while nobody paid much attention to Hitler's autobiography, Mein Kampf, which contained ideas he carried out rather faithfully.
I'm not equating Trump with Hitler, but the lessons from history are there. Outside candidates whom the Establishment doesn't take seriously or despises can gain power under the right circumstances. Holding your enemies and their grievances in contempt is the first step towards defeat.
Sadly, by voting for Trump, the American strongman, dissidents believe their rights will be protected. Yet those who insult them while refusing to admit the root cause – a centralized government – they have no room for complaining, for they partly share the blame for what is happening. It is they who for years have insisted there is no option in which everyone is left in peace.
Either it is time for Americans to go their own separate ways peacefully, or we will be forced down the same Road to Serfdom together through state violence, and whether it is thrust upon us by a nationalist or a socialist will make no difference.